Mrs. Nguyen Bach Diep, FPT Retail CEO and President, has been honored by Forbes Vietnam in its list of 50 most influential women in Vietnam in 2019.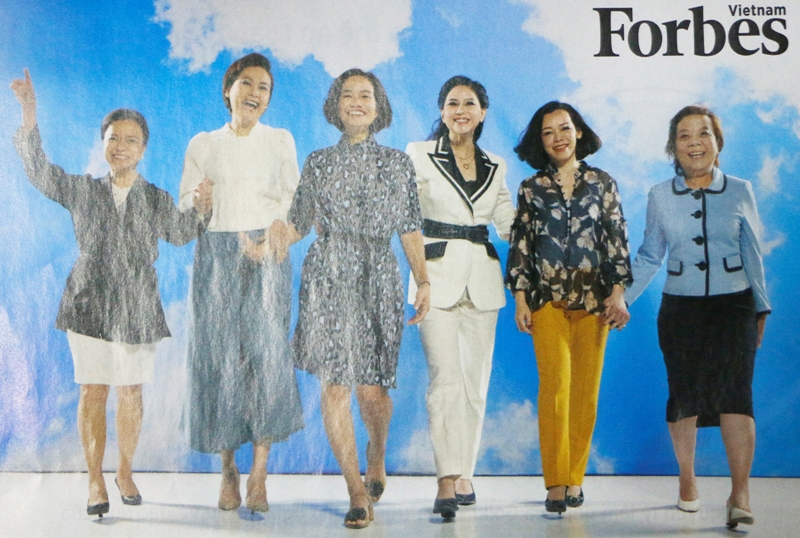 Chairman and CEO of FPT Retail Nguyen Bach Diep (right edge) appears on the Forbes Vietnam cove in March 2019.
Forbes Vietnam has officially published its list of 50 "Most Influential Women in Vietnam", including those pioneering in different fields from politics, entrepreneurship, business, research, social work, science-education, entertainment, and sports.
In this list, for the first time, FPT Retail "iron woman" was honored as one of the 20 most powerful women in the business sector in 2019.
The achievement of Mrs. Nguyen Bach Diep was to bring FPT Retail from 17 stores to the second largest mobile phone retail chain in Vietnam with more than 500 stores from North to South after 7 years of development. In 2018, FPT Shop earned the revenue of nearly VND 16,000 billion. The net income reached VND 348 billion, which rose by 20% compared to the same period.
"The common characteristics of these most influential women on the list are the passionate commitment, firmness, and tenacity, which help them not only succeed in their fields but also create, and affirm new values ​​of modern women," said Vo Quoc Khanh from Forbes Vietnam.
According to Forbes Vietnam, while the phone retail segment slowed down since the market was close to be saturated, FPT Retail joined pharmaceutical retail segment after successfully acquiring Long Chau pharmacy chain. By the end of 2018, this pharmacy chain has 25 stores and plans to open 50 new stores in 2019.
Mrs. Nguyen has been with FPT since she graduated from university. Through many positions, from business staff to manager, Mrs. Nguyen had gained great experience in many fields, including Internet and telecommunications before joining FPT Shop. At FPT Retail, she was named "iron woman" due to her determination.
This is the second time that Forbes Vietnam has announced its annual list of 50 "Most Influential Women in Vietnam", comprising of a list of 20 powerful leading women in business in 2019.
According to Hai Yen
Investment Newspaper