From being an unpaid intern for a year to holding the position of managing FPT Shop phone chain, then conquering Long Chau drugstore chain,… Mrs. Nguyen Bach Diep has been going through many ups and downs. However, the road ahead is still hard because she herself put pressure and challenges herself as she is still far from her opponent.
Talking with businesswoman Mrs. Nguyen Bach Diep – Chairwoman and CEO of FPT Retail Joint Stock Company (HOSE: FRT) on International Women's Day, March 8th, about career, human affairs …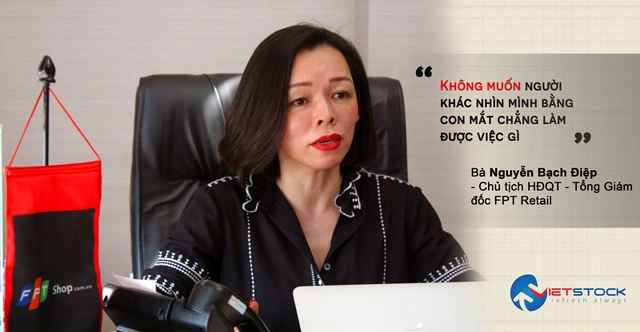 In 2018, FPT Retail opened 60 more stores, bringing the total number of stores to 550, the average sales of each store also increased compared to 2017, reaching VND 2.4 billion. Although it was launched behind other retail businesses, which is the secret to the effectiveness of FPT Retail business?
The criterias for FPT Retail to open a store are densely populated areas such as near markets, schools, trade centers, and the density of traffic stream. At the same time, the best place is near the opponent's store, which is a safe point because I can measure the number of customers and that sales of that store.
If I open the stores near those of the rivals, there is definitely an increase in competition. However, in the general market, customers will normally be loyal to certain brands, but there are also neutral customers. For example, among a few thousand products, FPT Shop is promnent in this product, competitors are known for other products, customers will then choose which product is suitable for them. It's like the way you drink Coca Cola or Pepsi. By nature, you cannot know which one is better, so there are ones prefer Coca, others go for Pepsi. As a result, they both have shares in the market. The phone market somehow works like that. There are also customers who are loyal to one brand and also have more neutral customers, they can deliberate different brands before buying.For other services and programs, the shops are kinda similar, so it is difficult to tell the differences. However, FPT Shop has a strong position in the high-end segment, thanks to previous history. As FPT stores were still a showroom other companies such as Nokia and Samsung, the investment in those store were considerable. At the same time, FPT Retail was also the first company to bring Apple to Vietnam with brand shop stores such as F.Studio … The brand FPT Shop was created from such cases with high-end product lines for comsumers to choose.
FPT Retail entered the pharmaceutical retail business when the mobile phone market, the main retail segment of the company, is gradually entering a saturation phase. According to you, is this judgment true?
By nature, the phone segment is already saturated, because the growth of the phone market is only a few percent per year, so the drugstore chain will be the future direction to help FPT Retail grow more. In 2019, this drugstore chain has not developed enough to contribute much to revenue of the Company.
However, in the telephone segment, FPT Shop will still try to find new directions, exploit other channels to have a growth rate of 15%, such as installment payment (with 10% remaining), sales channel for business, F.Friends … , which means  the company will actively find customers rather than customers themselves go to FPT
In the future, what are the main factor that contributes to to the growth of FPT Retail, FPT Shop, F.Studio or Long Chau pharmacies? FPT Shop is still the main business in 2019, Long Chau and F.Studio do not contribute much. Specifically, according to the 2019 plan, the Company's revenue is VND 17,700 billion, pre-tax profit is VND 560 billion, rising by 20% compared to 2018. In the revenue structure, the share of Long Chau contributes VND 500 billion. Regarding F.Studio, the original plan is to open 100 stores in 3 years but Apple's policies were not favorable, plus their products were not good enough in the last import. Hence, the Company will stop investing too much on this at the moment. The future plans will still depend on whether Apple's policies and products change, then FPT Retail will return to set a target for this chain.
In addition, the company also set a target of accessories revenue this year, which is to reach VND 1,000 billion, increasing about 40% compared to last year. There are many ways to achieve this number, such as changing suppliers, choosing products with more affordable price for the market, or investing in employee training …  The company also aims to sell products through online channels this year, growing 25-30% faster, while the offline segment is 15%. The reason is now more and more people do not have time to go to the store, so they have goods deliver to the house.  FPT Shop currently has a number of 550 stores through out 63 provinces and cities, mostly in Hanoi and Ho Chi Minh City.
About the business results in 2018, can you tell us how Long Chau drugstore chain has contributed? Does the progress of expanding the drugstore chain go as planned and does the company face any difficulties in the implementation process?
In 2018, FPT Retail opened 20 Long Chau drug stores. The plan is to open 50 more stores in 2019, so there will be about 70 drug stores from the end of the year.
Long Chau is divided into two categories: old stores are operating and new ones have been open. From 2018 up to now, FPT Retail has opened many stores with different criteria for testing such as big, small, in crowded residential areas or paired with FPT Shop's shops to optimize surface. During the time of testing these model stores, a few things happened that helped me to realize many problems, know what needs to be focused. The first priority is still to open big pharmacies, but depending on the process of evaluating the performance of the store, if the efficiency is not good, the pharmacies need to sell another lines of products to produce revenue.
In addition, in the long future, the company wants to be convenient for customers. For example, if customers want to buy specific items, we also have big stores with all kinds of products. For customers only need to buy simple medicines like ones to cure flu, fever and want to be close to home, we also have to have small stores.
This year, FPT Shop plans to open the next 70-100 shops, in the process of opening, if we have an open space but at a little high price, it would be a waste if only FPT Shop uses it. The company will consider opening 2 stores simultaneously. Some points have tested this model of 2 stores in Ho Chi Minh City such as Le Van Khuong, Nguyen Oanh, Hong Bang … Those also have their own effectiveness and difficulties.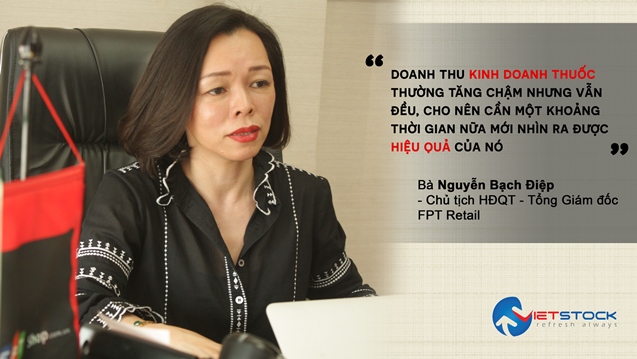 In fact, the drug business takes a bit more time than the phone one. In the old days, people used to buy medicines with prestige, beliefs. For instance, people get used to buying in the store with same pharmacist over the years. When the chain entered the market, it has to take time to persuade consumers to try to come the new pharmacies to experience the difference in prices, goods, service … Therefore, sales of medicines often increase slowly but steadily. In the end, it takes a while to see the store's effectiveness.
This year, FPT Retail will build the entire system for Long Chau pharmacy chain, from operation to logistics … The opening of Long Chau pharmacy has a big advantage when relying on 70% of FPT Shop's software system. The construction takes much less time. It only takes a few months, not the whole year as in the old days. However, the operation process also encounters two main difficulties. The first one concerns the recruitment, and personnel training. The second one is a more complicated process to get a license as this is a business relating to human health, so it needs the State's management. Currently, opening a store takes about 30-45 days to apply for a permit.
According to market research companies, the growth of the pharmaceutical industry is 15-16% per year, but the important issue is that there are 30,000 – 40,000 small stores. It similars to the telephone segment 10 years ago. There were so many small phone stores. After that, the model of store chain was launched to give customers better experience, more prestige, so it attracted customers. Since then, the chain has increased strongly thanks to the market share of the other small stores, not from the normal growth of the market. The current pharmacy segment is also similar, and this is the start.
What impact does the new large shareholder group have on the company's personnel and business activities?
No action has been seen from this major shareholder. But I think, if the current board of directors still maintains good indicators, it is likely that shareholders will be assured so they won't  bring more people in.
Having been with FPT Retail since the early days, to have the position as today, have you ever faced failure and how did you deal with it? Do you intend to find a new environment to challenge yourself more?
I have encountered lots of difficulties, but over the past 20 years, I have never intended to leave FPT. What makes me stick with FPT is the environment here, which gives me opportunities to develop myself, and then be recognized and rewarded. If you go to a different environment, that belief is almost zero and you have to earn it again. No matter how popular you are, others will only recognize you when you prove you can do something. Another part is that you will not be given full authority to decide on the job despite the qualities you have.
I won't leave FPT Retail since here, I am also fine. There is no big problem causing frustration to leave. Besides, it doesn't mean that you have challenges only when you go out. Here, the environment is demanding and challenging already.   Not to mention my plan is not only to complete the company's goals but also to keep up with the rival. It means that I can complete the plan with the Company, but the distance with the opponent is still quite far away, which leads to the fact that I have already put pressure and challenges on myself.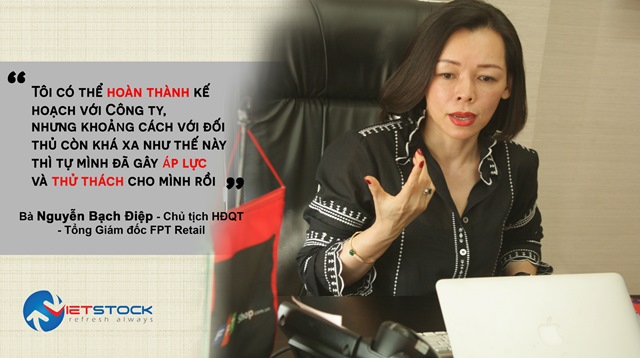 So what is your guideline for success as today?
In my opinion, this is just a matter of awareness. When I came to work at FPT, the first year I did not get paid but I still worked even though I was so misarble at that time. I didn't even have enough money to have my bike patched. I worked becausse of my passion. Then I set a simple goal that this was a time that I could gain more experience rather then anything else.Indeed, after I had accumulated a lot of experience, I had many opportunities to interact with many different customers as convincing Prudential, 3-digit tobacco to buy products with project worth millions dollar. Since then, I have provided solutions for customers. I have grown up, having more experience to handle problems, which helped me to have more work. Then the Company noticed the capacity and here I am! Now, I see a lot of employees who only care about chainging job and complaining about why they do so much but don not get much. But they don't think that the experiences they have earned are their valuable assets even when they left. It will help them to be more successful later. But they don't realize that, which means they do not have good perception. It is also important to have good attitude at work. When assigned something, I have to do the best I can. I don't want others to look at me with the thought that I cannot do something, so I try very hard. And then the opportunity comes.
As a businesswoman, what do you think are the advantages and difficulties women have?
From my personal point of view, women do not have much courage when it comes to taking risks, but they are more cautious in every job, which may cause them losing opportunities. I also missed the opportunity sometimes but I let it go very quickly to focus on another goal.
The second factor is the sensibility in new technologies. It seems that men understand it faster. Women are better at administration. Hence, they are not as good as men when it comes to techconology.
How do you keep the balance between work and family?
In regard to my family and my children, I still can do it well. There is nothing called trade-off when being in this position. My family still lives normally, especially on Sunday, which I have reserved for my family completely. Every day I go to work, but I still maintain common activities with my family like eating dinner together, or taking the kids to school. There is still interaction among family members. We still care for each other.
According to Minh An, Vietstock