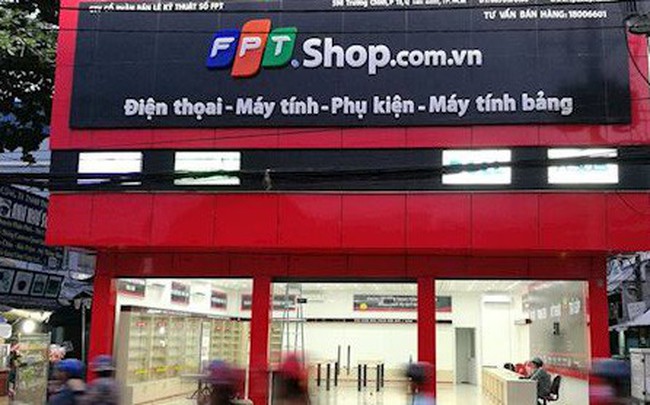 The significant decrease in the stock price caused the market price of each FPT Shop fall down to VND5,5 billion, which is unreasonable according to Ms. Nguyen Bach Diep.
From the beginning of 2019 until now, the stock price of FPT Digital Retail Joint Stock Company (FRT code) plummeted. At the end of 2018, FPT Retail's stock price was at VND71.900 per share. At 28 March, the stock price of FPT is at VND48.000 per share, down more than 33%.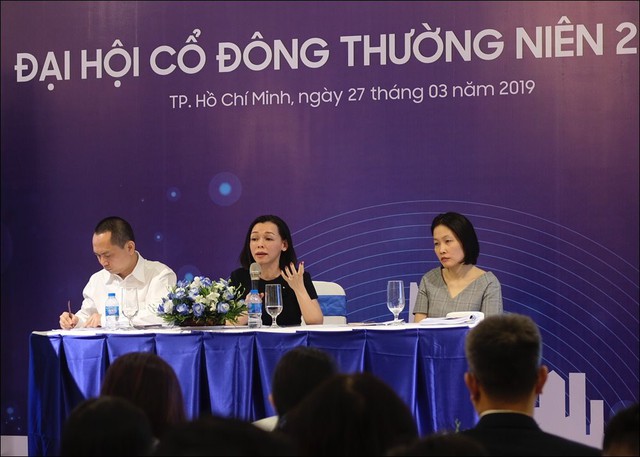 Ms. Nguyen Bach Diep (holding the microphone), is giving speech at the FPT Retail's Annual General Meeting of Shareholders 2019 – Photo: Hai Dang
"However, according to our evaluation, we consider that such price is far lower than the real value of FPT Retail", a contributor of FPT Shop said.At the FPT Retail's Annual General Meeting of Shareholders held on 27 March, after being questioned on such issue, Ms. Nguyen Bach Diep – the Chairman of FRT cum General Director of the Company – admitted that FPT Retail's shares have just been listed for less than 1 year, the Board of Management is not experienced in the stock exchange, and they have no idea about why the stock price falls dramatically.
With the current stock price, Ms. Diep is calculating the market price of FRT of VND3,200 billion. If such price is divided to 570 stores of Long Chau and FPT Shop, the average value of each store is at VND5,5 billion.
Ms. Diep stated that such revaluation is unreasonable, because the cost of construction, inventory, brand costs, operating personnel, website with a high rate of access, switchboards, etc., in total, will exceed the amount of VND5,5 billion.
"If compared to other retail chains, even listed and unlisted chains, the value of each of their store is from VND20 to VND50 billion, therefore, it is not reasonable that the value of FPT Shop is VND5,5 billion."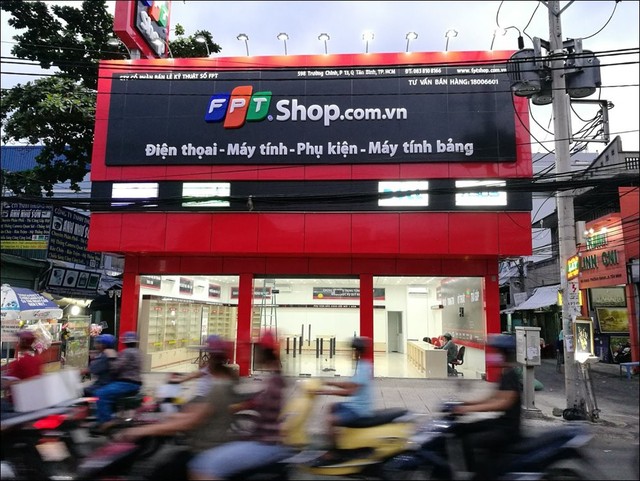 A store of FPT Shop is about to open – Photo: Hai Dang
"The large scale and high profit of pharmaceutical industry are a direction for potential development of the Company," added by Ms. Diep to prove that the market value of FRT is being evaluated incorrectly.With the acquisition of Long Chau drugstores since 2017 for business expansion, Ms. Diep said that there is high potential in the pharmaceutical retail industry. The scale of such industry is estimated to be at VND4,5 billion – the same as mobile industry – as a result, if FRT holds about 30% of the market share without the presence of any big retailers, FRT's revenue can increase greatly from this new industry.
Although Ms. Diep does not know the reason for the dramatic decrease in the stock price, she thinks perhaps it is due to late payment, little transactions, which make the stock price go down.
"In general, we have recognized these issues and are having some solutions such as purchases of consulting service and we will have ways to improve the payment issue", said the CEO of FPT Shop.
In 2019, FPT Retail has planned to reach the revenue of VND17,700 billion, profit after tax of VND418 billion, equivalent to the growth of 16% and 20%, respectively, compared to 2018. Ms. Diep revealed that in 2019, they will open 100 additional stores, reaching 633 stores in total. Besides the expansion in large central areas, the new stores will be available in residential areas of unexploited districts and communes.
In 2018, FPT Retail's total revenue reached VND15,298 billion, up 16% compared to 2017. Online revenue was at VND2.432 billion, with the growth of 21%. Profit before tax reached VND435 billion, profit after tax reached VND348 billion, up 20% compared to 2017.
According to Hai Dang, ICTNews