The pharmaceutical retail market is heating up with the participation of many "big players" both domestic and international with plans to expand modern store chains.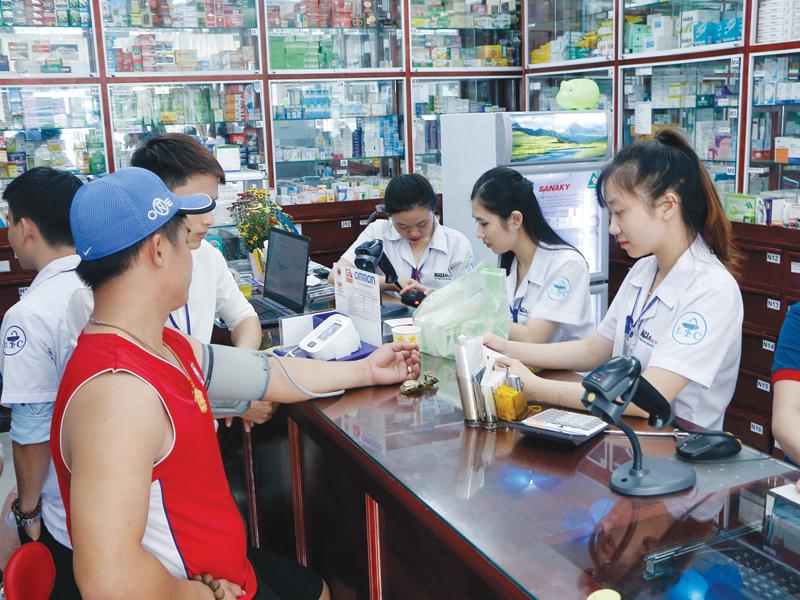 Attraction from the pharmaceutical retail section
The national western medicine retail market has been growing by 2 digits through many years and is forecast to keep this growth momentum in coming years, which greatly encourages enterprises including FPT Digital Joint Stock Company (FPT Retail), a new player, to keep on pouring massive investments into increasing the number of stores.
FPT Retail has just "embarked on" the pharmaceutical retail section since the end of 2017, but it immediately decided to expand coverage fast to seize market opportunities. In details, the Company will expand the Long Chau Pharmacy Store Chain to 70 stores in 2019 and the number will be 700 in 2022.
The pharmacy store chain model emerged in Vietnam about 10 years ago to really heat up in the last 2 years. Since then the pharmaceutical retail market with the chain model has seen participation of both national and international new players.
For instance, Tien Phong Complete Service and Trading Co., Ltd. is the Vietnam-based representative of Pharos Indonesia Group with a healthcare and beauty salon chain under the brand name Century Healthcare. The Company already has 13 Century Healthcare shops with 11 pharmacy stores in Ho Chi Minh City expects to increase to 200 shops in the next 3 years.
Meanwhile the large chain Pharmacity already reached 100 pharmacy stores in Ho Chi Minh city in 2018 and aims to have 500 pharmacy stores by the end of 2020.
In November 2018 in Ha Noi, Vinfa (a member of Vingroup) inaugurated 11 pharmacy stores built inside Vinmart shops in residential areas, new urban areas and ground floors of high-end condominiums.
Before that in 2017, after engaging in the new area of pharmaceutical retail through the acquisition of Phuc An Khang pharmacy store chain which was later renamed as AN Khang, Mr. Nguyen Duc Tai, President of Mobile World Investment JSC stated his ambition about opening a pharmacy retail store chain through M&A with 500 stores.
The competition to improve quality
The pharmaceutical retail section brought in a turnover of over 380bn VND for FPT Retail in 2018. According to FPT Retail's calculations, there are many indicators proving pharmaceutical retail is a potential section in Vietnam. One of the indicators is the market size of about 4.5 – 5bn USD (equivalent to the mobile phone retail section); another indicator is a certain annual 2 digit growth rate, etc.
According to  Vietnam Pharmaceutical Companies Association (VNPCA) in a pharmaceutical retail market analysis, the development tendency is that pharmacy store chains of large enterprises with a methodical roadmap will have abundant advantages to increase their market share.
What's important is the participation of big players including FPT Retail, Vingroup, Mobile World, etc. and expansion in size of enterprises with position on the market are gradually improving quality of the pharmaceutical retail section thanks to competition for locations, selling prices, services and employing highly skilled pharmacy consultants and pharmacists, etc.
However, a big market with 2 digit growth rate of buying force means no guarantee every investment will win. For instance, Mobile World officially engaged in the pharmaceutical retail section in 2017 only to record a loss of 734mn VND by the end of June 2018.
FPT Retail is accelerating its expansion in the section, but still has to compensate for loss. The Company sets the turnover target for this year at 500bn VND, while net loss is expected to be about 20bn VND.
Vietnam's pharmaceutical retail market size is forecast to reach 7,7bn USD in 2021
According to IBM Market Research, the market size for pharmaceutical retail of Vietnam in 2018 reached nearly 5.3bn USD, expected to be 7.7bn USD in 2021 and 16.1bn USD in 2026.
Also according to IBM, spending per capita on medicines in Vietnam in 2017 was about 56 USD, which is forecast to rise to 85 USD in 2020 and 163 USD in 2025.
According The Hai, Bao Dau Tu