In order to maintain the 20% growth rate of profit after tax in the context of market saturation for mobile phones and Long Chau pharmacy store chain's continued loss, FPT Retail employs numerous selling tactics to attract customers.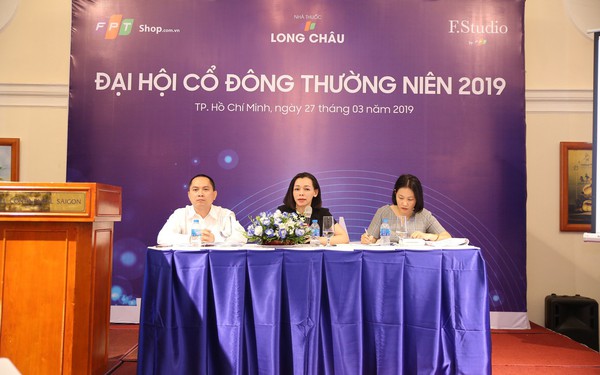 After 6 years of impressive growth thanks to being a follower, FPT Retail starts to face the other side of the coin. Upon the Company's completion of its system chains build-up, the market stepped into saturation, which then pushed FPT Retail, a follower with no other choice, into quick hurdles of developing other retail sections in order to maintain the annual 20% growth rate of profit.
Similar to other retail chain businesses, the Company's situation dictated a priority of market expansion over profit in the beginning. Therefore, the Long Chau pharmacy store chain will bear a 20bn loss in 2019 and only begin to profit from 2021 onwards as stated in the report of FPT Retail's leadership in the Annual General Meeting of Shareholders held this morning of March 27.
In order to help FPT Retail safely go through the pivotal ahead, the leadership proposed many familiar yet creative selling tactics to help the Company maintain its 2-digit growth rate of both turnover and profit.
FPT Shop and 1001 selling tactics
In 2018, FPT Retail recorded a total turnover at 15,298 bn VND, up by 16% compared to 2017. Turnover from online trading reached 2,432bn, which recorded a rise by 21%. Profit before tax reached 435bn and profit after tax reached 348bn, up by 20% compared to 2017.
In the year 2019, FPT Retail aims to achieve 17,700bn in turnover and 428bn in expected profit after tax, which means a growth rate of 16% and 20% respectively compared to 2018.
According to the plan, this year will see FPT Retail boosting the implementation of F-Friend and Subsidy programs apart from increasing customer traffic both online on the website and offline at shops. These two sections are expected to bring in 1,875bn compared to 1,575bn in 2018.
In 2018, FPT Retail's F-Friend program had 1 million blue collar customers from 2,500 factories. This year the Company will focus more on reaching white collars – office staff workers – from commercial and service enterprises. As for the Subsidy program, the Company plans to cooperate with Vinaphone, Mobifone and Vietnam Mobile in 2019 to jointly sell mobile phones accompanied by preferential service plans.
According to Ms. Nguyen Bach Diep, CEO of FPT Retail, there are two sections with abundant development ground for the Company: upgrading products through selling on credit and selling accessories and SIM cards.
The turnover from credit-based selling currently accounts for only 32% in FPT Shops' total turnover, while the ratio is up to 50% at other enterprises in the same industry. The credit-based trading will contribute 45% in FPT Shops' total turnover in 2019. In order to control bad debts, FPT Retail will utilize various technologies to evaluate more accurately customers' financial capabilities and credibility points.
The section of phone accessories and SIM cards at FPT Shops has long been overlooked by FPT Retail, while this section is highly profitable. Therefore, FPT Retail sets the target turnover of 1,000bn VND from selling phone accessories and if things go as planned, the profit will be about 100 bn, up by 67% compared to 2018.
The impressive figures stated above are thanks to FPT Retail's thorough preparation for "The 1,000bn campaign" after negotiating with overseas suppliers, which lowers the import price by 20% compared to previous prices. On that ground, despite selling at very competitive prices, FPT Retail can still achieve a 10% profit compared to previous prices.
With such 1001 selling tactics being implemented in 2019, it is obvious the Company is striving to satisfy every need of consumers from all social classes. Customers can always find items they need in FPT Shop.
Long Chau is a story of the future
Long Chau pharmacy store chain has 22 stores, 20 of which are located in Ho Chi Minh city and Bien Hoa. However, the turnover of the chain is not accounted in the total turnover in 2018.  In 2019, FPT Retail will open 50 new stores in Ho Chi Minh City as well as many other provinces nationwide. The turnover from these will be about 500bn VND, while loss is expected to be about 20 bn VND.
According to Ms. Nguyen Bach Diep, Long Chau is a story of the future. In the plan presented at the General Meeting of Shareholders, the number of stores will rise to 217 in 2020 and 700 in 2022. Accordingly, Long Chau chain will break even in 2020, make a profit of 62 bn VND in 2021 and 193bn VND in 2022.
Being a new player in the pharmacy retail industry, FPT Retail experimented various business models in 2018 with a focus on locations which can attract most customers once the store is opened. They have discovered the right model, hence the bold acceleration of market expansion.
Also according to Ms. Diep, if the development of Long Chau pharmacy store chain gets into orbit in the time to come, FPT might as well embark on pharmacy distribution and manufacturing industries.
3 projects in test
For the time being, FPT Retail's two main retail sections are electronic devices and pharmaceuticals. However, they do not limit themselves in those sections only. As Ms. Diep has shared, this Company will invest into any retail section with high profit.
FPT Retail is currently cooperating with partners to test 3 projects simultaneously, which will be made public once experimentations prove successful. However, the CEO would not disclose which retail section.
According to Linh Dan, Cafebiz